Changing Course: A Reliable Solution for the Transition to Online Lectures
Cisco
It was February 2020 and I had just returned from abroad. The extra health screening measures at the airport seemed excessive, but the situation was escalating closer to home too. Back at work at the Medical University of Innsbruck, I met with the Executive Vice President for Teaching and Study Matters to assess concerns over the growing pandemic. Until then, online learning wasn't the norm for the university, nor was it a subject of conversation. As a medical university, our courses involve a lot of lab and hands-on activities, and training of clinical skills, which fit into our traditional in-classroom experience. We operate a learning management system, ILIAS, which is similar to Moodle or Blackboard. Professors used ILIAS primarily to make course material, like lecture slides available.
The official expectation was that the university wouldn't have to pivot to distance learning. Still, I came out of that meeting thinking, "We should be ready anyway."
A Win for the University
Several years ago, there was a project call from the federal ministry in which we won our bid for a centralized video conferencing solution for Austrian universities. The idea was to reduce the amount of travel between universities for the purpose of coordination meetings. Attending a meeting in Vienna, for example, might require six or seven hours of travel for a two-hour meeting. Video communication is much more immersive than phone and email communication, and enabling this kind of collaboration would save time and money. We implemented the project, called Telepresence @ Austrian Universities, on Cisco technology, together with nine partners from other universities. The infrastructure is still in use today.
In 2019, we moved into our new university administration building. We wanted to take this opportunity to dedicate at least one room to video conferencing with a Cisco Room Kit. Video conferencing with a camera and headset is fine for 1:1 communication, but it doesn't naturally lend itself as well to group meetings as a full studio with dedicated equipment, such as a high-quality camera and a large screen. A purpose-built space and the right equipment improve the overall user experience and make it easier for people to use it.
We also decided to license Webex to facilitate widespread adoption. The original plan was to roll out the pilot in the first half of 2020 followed by broader deployment in the second half of the year.
Changing Plans to Suit a New Use Case
Coming back to the meeting with the EVP, I got the sense that we should prepare for online learning, even though no decisions had been made. The good thing was that we already had a platform in place: Webex. We would need to accelerate our timeline though, scrapping the pilot and testing phase and jumping straight into deploying Webex for everyone.
There are, of course, many video conferencing platforms out there. If it's just a matter of sitting in front of your PC with a headset on, almost any platform that is currently available—be it commercial or open source—will work. The advantage Cisco's solution has over other platforms is the integration between hardware and software. Not everyone will be having their own video system in their office, but the tight integration between desktop video conferencing and digital whiteboards completes the collaboration ecosystem. It's easy for someone to use with their own computer, but they can also use large room systems equipped with a Webex Board. It's all one integrated solution, with an easy-to-use interface. It makes for a much more immersive experience than other platforms.
We had a big advantage because we already had Webex licenses, but it was still a short time frame: We learned Friday that we would be going into a full lockdown on the following Monday. Even though we had to move quickly, I didn't want it to be at the expense of quality. We needed to be deliberate and set up the system as a long-term solution, which meant implementing certain security and privacy features from the beginning. We would have key management on prem, for example, and the data centers would need to be located in Europe.
We figured it was a good idea to start with Webex Meetings and Webex Events, since even our largest lectures of 400 to 500 students fell below the threshold for event participants. To help get everyone on the same page within such a short time frame, we set up an ad-hoc team consisting of people from the departments of student affairs and IT. They created an instruction package, including a quick-start and tutorial video for instructors, giving an overview on how to use the solution for online lectures. It helped that we didn't have to change much in the way we use our learning management system, which was already familiar to everyone.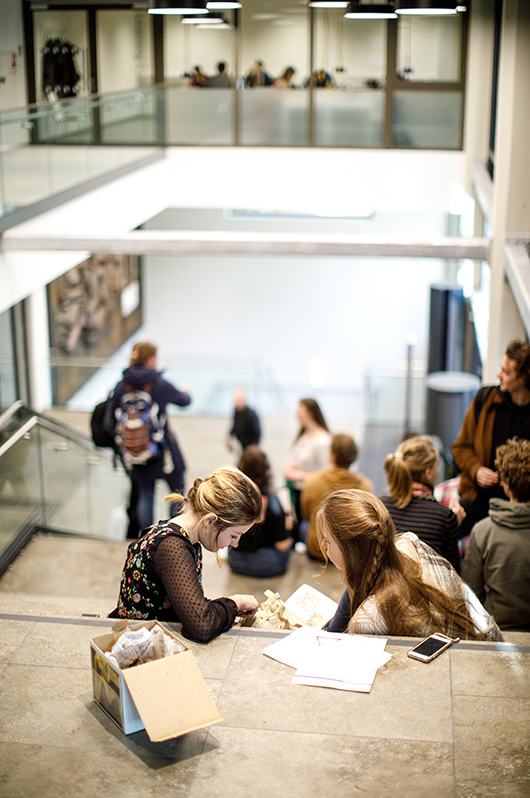 On the Friday when we learned of the impending lockdown, we had five users in the Webex system. Within two weeks, we had achieved a full rollout to 5,000 users and had switched to Active Directory synchronization with on-premise key management.
Throughout the implementation, we had the support of our local Cisco partner, Network Telecom Services (NTS). We have a longstanding relationship with them and they're very responsive—which we needed during those early days of our transition to online communication and teaching via Webex. The implementation was a fully collaborative process between our technicians, NTS and Cisco.
As is the case at many universities, our IT team is proud of our in-house know-how. We went into this process having already discussed the ideas for the pilot and knew what we wanted to do. Still, we were new to this and leaning on others for guidance. Apart from our contacts at NTS, we established a Webex group that also has a lot of regional Cisco people in it. I can pop a question in the group and get crowdsourced replies very quickly, which is another advantage of using a widely-used system that enables communication over the boundaries of organizations.
Enhancements and Improvements
Over the past year, we have improved our original infrastructure by creating what we call our professional studios. With more dedicated video conferencing spaces, professors don't have to sit all the time in front of their computer with a headset. We've got great mics with pop filters and audio interfaces, so instructors can conduct themselves more in the way they usually would in a lecture. Instructors also have access to our IT support and assistance if required.
We've reworked some of our manuals and provided individual instruction for several departments. For the most part, however, our online learning system requires little support and has been self-running. Some people have even taken it upon themselves to use Webex Teams for small-group, seminar-like experiences with more interaction.
Our university is dedicated to using free, open-source standards and software, allowing people to use the systems that work best for them. One of the things we like about the Webex system in this context is how the hardware easily integrates with our Siemens phone system based on the open SIP standard.
Even though we only deliver support for Webex, we don't restrict the platforms that professors use to teach their students. Some of our professors, for example, post lectures on YouTube or use Zoom. Still, our teachers choose to hold between 80–90% of online teaching activities in Webex Events and Webex Meetings.
Webex Teams has taken a particularly strong foothold among the university's administrative personnel. My colleagues have discovered that real-time chat, document sharing, and screen sharing enables a much better collaborative office environment at home and even within the campus compared to emails and phone calls.
I come from a teaching background and communication is something that's always interested me—even more so in this era of too much communication. You don't always realize it, but even a quick phone call can be a big disruptor to a person's workflow. In Webex Teams, you can send a person a quick message to ask if it's a good time to connect, and they will respond when they're available. I see this continuing even after everyone returns to the office.
Ready for a Cooler Future
The need to adopt to the challenges around COVID-19 has kickstarted so many new things for us, I don't think the university will ever go back to quite the way it was before. For example, we plan to be much more selective about the meetings that require travel. I also expect we are going to have shorter, more digestible meetings via video conference.
After the pandemic, I also expect we are going to see our use of Webex grow organically, with educators and administrators finding models to integrate meaningful hybrid elements into our teaching. For example, we are moving from ILIAS to Moodle and then using the Webex education connector with that. This will make sharing Webex events much more intuitive and will enable professors to hold virtual office hours if they choose so. With interoperability, the platform moves into the background whereby choosing the means of communication best suited to the situation and one's own workflow moves into focus.
Webex was the reliable solution we needed when educators everywhere had to suddenly move to remote working in March 2020. I never had a sleepless night worrying about whether this would work at the scale we needed. With Webex in our toolkit, we can accommodate the diverse use cases of lecturers and students and strengthen the collaboration between universities. Our Webex adoption was never about moving everything online or replacing the, in the end, irreplaceable way of small group problem-based learning we use in our curricula. By opening ourselves to a new model, however, we've gained a lot more formats and possibilities of working together.